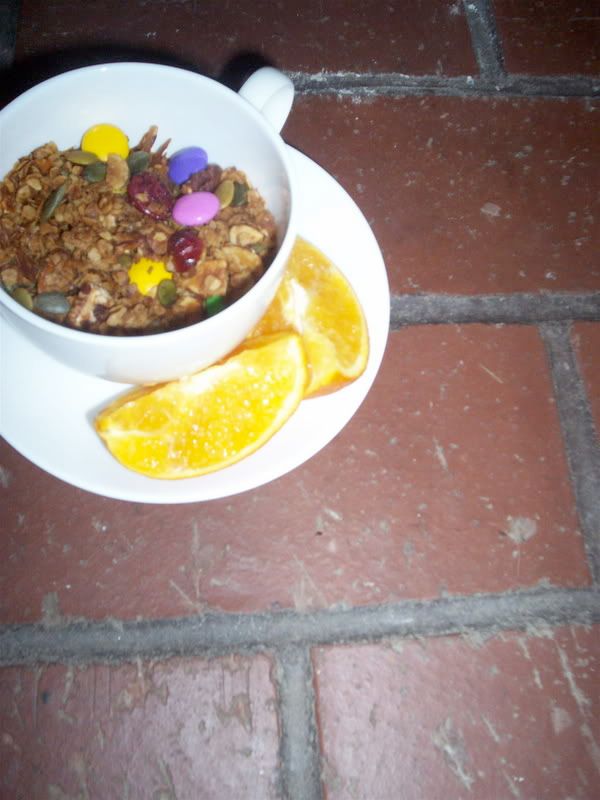 I can't say I truly appreciate the idea of granola. It's not one of those foods you wake up and hurry to eat; it's more of a depressing Monday food. I never ate it when I was younger (over developed taste buds) and don't really know what to do with it besides put it on yogurt; it's never really been an interesting food. However, it was very interesting today when I made my own recipe. The jist of it is to add your favourite things, nuts, seeds, dried fruits and of course chocolate. I particularly enjoyed this granola by the handful but I suppose you could add a little milk to it, something I'll try tomorrow morning. This batch included some Easter smarties, a little festive anticipation.
Granola
3 C rolled oats
1/2 C sliced almonds
1/2 C crushed walnuts
1/2 C pumpkin seeds
1/2 C flakes coconut
1/3 C canola oil
1/2 C honey
2 T cinnamon
1/2 C dried cranberries
1 C smarties
Mix all nuts and seeds together in bowl. Whisk oil and honey together (I used fireweed honey) and toss to coat with nut mixture adding cinnamon. Spread out on foil lined baking sheet and dry out mixture at 250 degrees for 2 hours, mixing periodically. Stir in fruit and chocolate and cool completely.