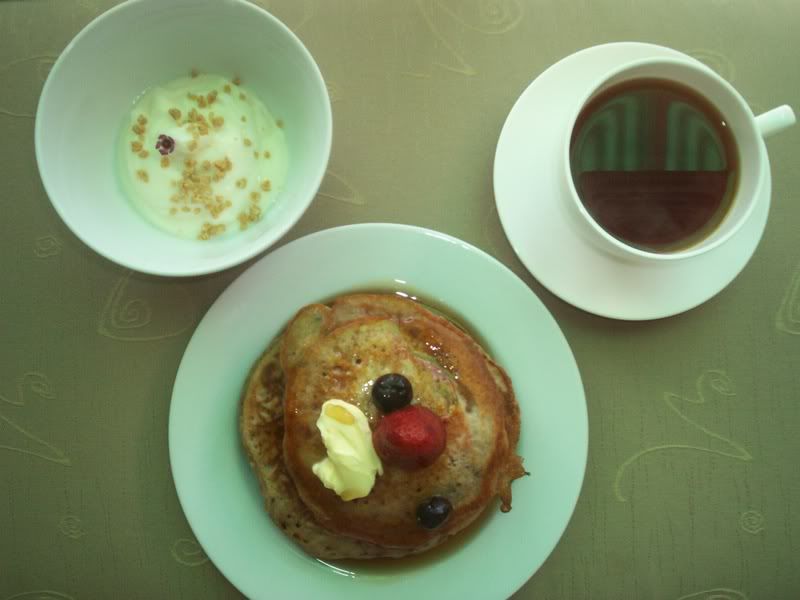 Fruit pancakes are always the perfect way to start the day under any circumstance. I have been eating pancakes since I can remember eating and these particular pancakes are tremendous. I took out a bunch of frozen berries last night and threw them in the fridge (which isn't necessary, you could always add them frozen).
Anything can be added to pancakes, spices, fruit, berries, chocolate, jams, nuts, cheese, grains, dried fruits, meat, vegetables, and of course wine. But of all beverages a nice fruit tea works best.
The pancakes I was raised on as a kid were the dutch version called pannenkoek, which are basically a thicker version of a crepe. These pancakes were always eaten for dinner. They consist of eggs, flour and milk and were always (for me) topped with cheese wiz.
These pancakes, however, are by far the most flavorful, versatile and interesting.
Fruit pancakes
2 eggs
1 C milk
2 t vanilla extract
3 T melted butter
1/2 C frozen fruit, thawed
1 1/2 C flour
3/4 t salt
2 t baking powder
2 T sugar
Put the eggs, milk and vanilla extract in the blender until light and foamy (there is nothing like the wake-up call of a blender when you are trying to sleep in on Saturday morning). Add 1/4 C more milk if you are not adding the extracted fruit liquids. Then add melted butter and fruit blitzing quickly. In a bowl combine flour, salt, baking powder and sugar. Gently but quickly add the egg mixture to the flour mixture and then let the batter relax while heating griddle (batter will thicken while resting).
The pancakes are flavorful on their own, but of course toppings are recommended.